Platform
Real-time insights on what's working and what's not across your entire revenue engine.
What's unique about the scaleMatters platform?
We get your data right, FIRST.
Every other BI, analytics, or intelligence platform assumes that your underlying marketing and sales data is good.
We assume it's mostly garbage.
Without ensuring data quality, your BI will just be visualizing pretty pictures of garbage, misleading data.
That's why our 4-step implementation approach ensures that your data is being captured and measured properly before integrating with your tech stack.
Context is the secret sauce — it makes data actionable!
Most BI, analytics, or intelligence tools overwhelm users with numbers but you don't really know what to do with it all.
We built scaleMatters to drive action, not just inspection.
That's why we infused 5 elements of context throughout the platform to help you take action proactively and prioritize highest impact issues.
All Funnels Analyzer
Pinpoint your wasted marketing spend
Stop clinging onto poor performing acquisition strategies.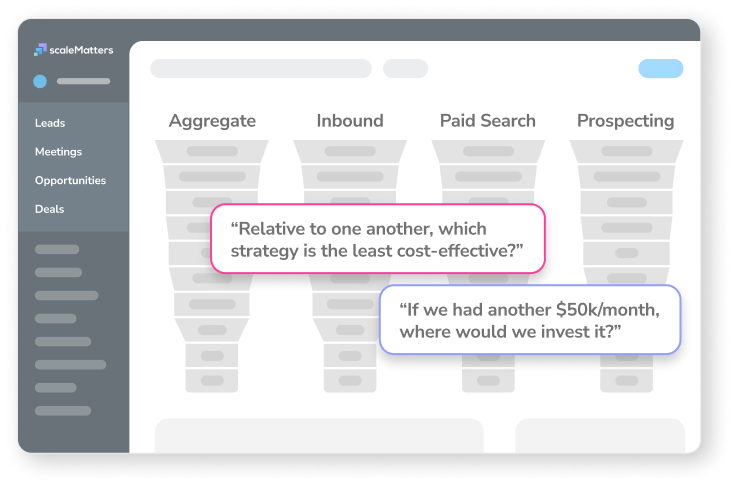 Journey Analyzer
Isolate friction in the buyer journey
Quickly spot bottlenecks or breakage in the end-to-end buyer journey.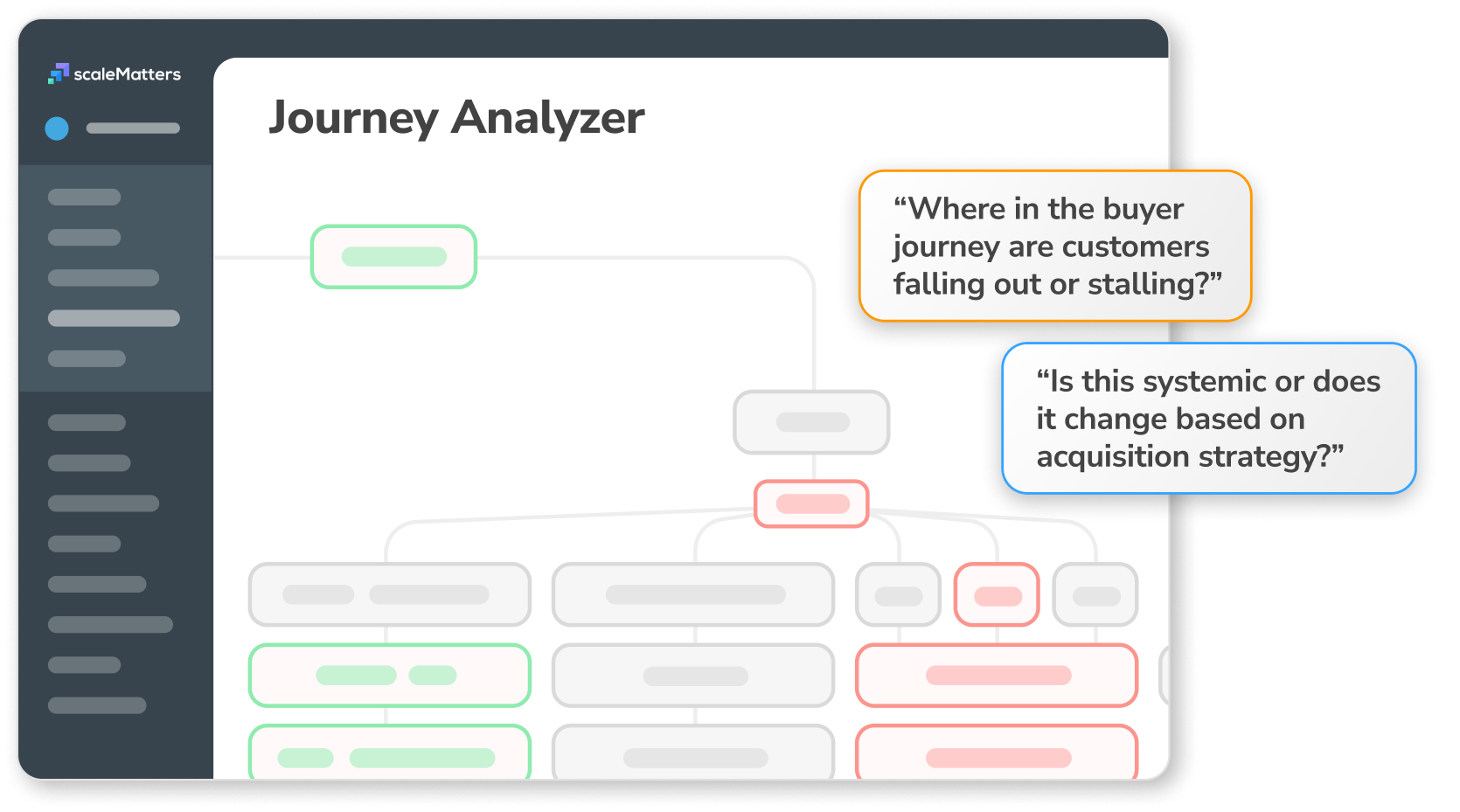 Performance vs. Plan
Proactively course-correct to stay on plan
Get off the end-of-period hamster wheel and stop holding your breath while you wait to see if you'll hit your number or not.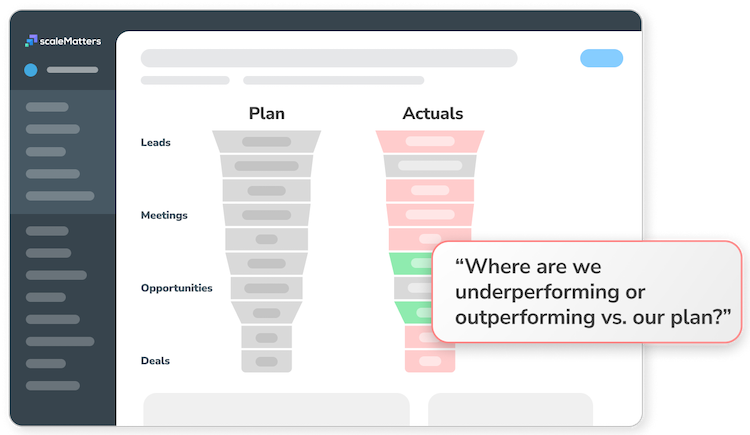 Trend Analyzer
Uncover root causes of your problems
Trend any metric you can imagine. Drill down until you get to the root cause of underperformance problems.
Impossible in Salesforce. Cumbersome in Excel.
Couple of clicks in scaleMatters.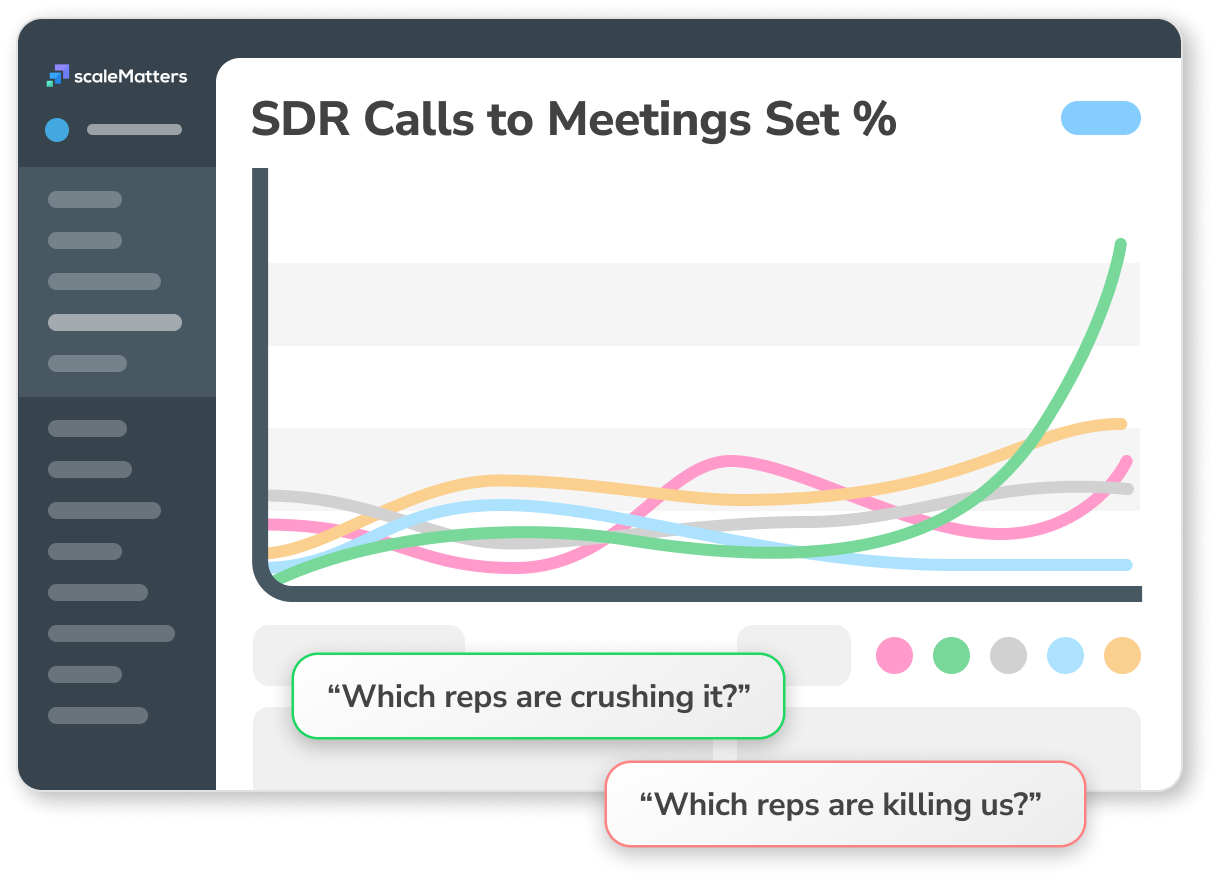 Dollar Impact Variance Analyzer
Focus on what matters
Don't try to fix everything. Channel your energy on fixing problems that will make the biggest impact on revenue.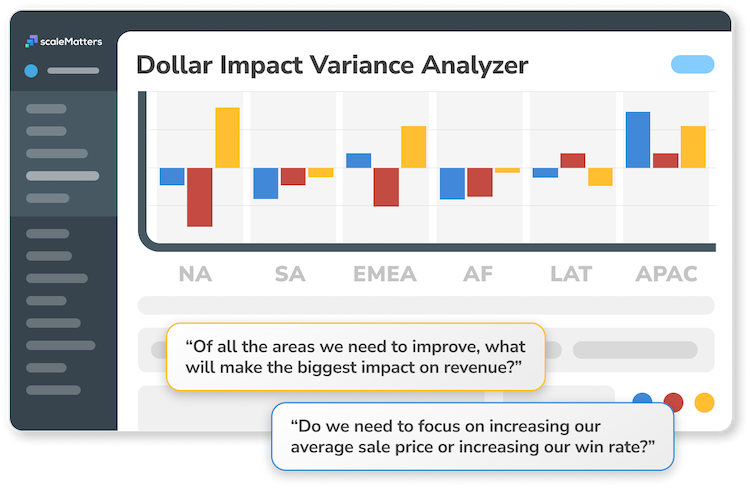 Event & Experiments
Track initiatives
Go-to-Market is always in motion. You're testing call scripts, iterating pitch decks, launching websites, hiring sellers, firing agencies, changing pricing and so on...
With Event Annotations & Experiment Panels, you now have a way to intelligently keep track of all the changes and how they impact key metrics positively or negatively.
ANALYST REPORTS
Tell data stories
What's the story behind all the data? What do we need to focus on fixing?
Analyst Reports allows business analysts to curate C-level data stories by wrapping charts with narrative.