Get accurate, full-funnel revenue analytics so you can...
Give everyone access to the same revenue funnel reports in one place
Diagnose what's working, what's not, and course-correct in real-time
Optimize conversion rates, sales cycles, and revenue acquisition efficiency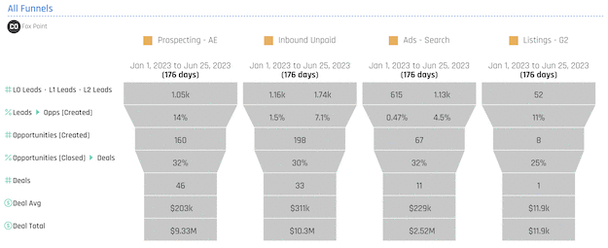 BOOK A 30-MIN DEMO
OF SCALEMATTERS
LOVED BY REVOPS & REVENUE LEADERS AT B2B SaaS COMPANIES LIKE:






"scaleMatters shows us where to cut the marketing and sales waste that is killing our profitability."
Aaron Levine
Chief Financial Officer @ ChurnZero

"scaleMatters helps us identify which strategies are working, and which aren't so we can optimize our spend."
Benjamin Lion
Chief Revenue Officer @ Enmark Systems

"scaleMatters has given us visibility and control of our funnel, which we just didn't have before."
Mike Learner
Managing Director @ LabWare

"scaleMatters removes the guessing game of where things are falling through the cracks and points us in the direction of what needs to be fixed using data."
Sadaf Atashbarghi-Nehr
VP Marketing @ Surefire Local
"The investment in scaleMatters is much less than if I tried to do it all in-house, and it pays for itself in improved ROI on marketing & sales spend."
Christine Schaefer
VP Revenue @ Blackcloak

"scaleMatters helps me understand our GTM performance and where to make investments in sales and marketing."
Drew McLaughlin
VP RevOps @ EVOLV AI