Trusted by Portfolio Companies of:








RevOps

is the gateway to an effective Go-to-Market engine.
Old Game
Go-to-Market without RevOps
→ Invest primarily in sales headcount to drive new customer acquisition
→ Trust amateurs and moonlighters who improperly configure your tech stack
→ Spend nights/weekends crunching disparate data and cobbling reports for board/ELT meetings
→ Make gut feel decisions about where to invest sales and marketing dollars
New Game
Go-to-Market with
RevOps Done Right
→ Invest early in RevOps to make sellers, marketing programs, and CS more effective
→ Architects and analysts build models, then configure your tech stack to measure everything
→ Always have access to accurate data and reporting at your finger tips
→ Real-time revenue intelligence and insights accelerate GTM optimization
Historically, comprehensive RevOps has been
out of reach

for most early and growth stage B2B companies to build internally.
But with scaleMatters, you can
punch above your weight class.
0

%

Cheaper vs. in-house RevOps
0

%

Faster time to value vs. in-house RevOps

Tech & Data Infrastructure
Tech & Data Infrastructure
Experts involved:
-RevOps architects
-RevOps admins
-Data Ops analysts

What they do:
-Map GTM processes/journeys
-Align on metrics/data definitions
-Best practice GTM instrumentation
-Configure your tech stack
-Train/support your end users

Data Ops
Data Ops
Experts involved:
-Data Ops analysts

What they do:
-Cleanse historical data
-Implement data governance protocols
-Monitor data quality
-Flag/fix data anomalies

Revenue Intelligence Software
Revenue Intelligence
Built for:
-GTM leaders: CEO, CRO, CGO, CMO
-Functional leaders: VPM, VPS, VPOps
-Analysts

Top features:
-Pre-loaded with 1000s of visualizations
-Leadership dashboards and scorecards
-Compare funnels, trend any metric
-Segment views by region, channel, etc
-Analytics on GTM strategies, processes, people, positioning, messaging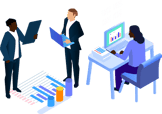 Business Analysis & Insights
Analysis & Insights
Experts involved:
-Business analysts

What they do:
-Forensic data analysis
-Monthly/quarterly in-app reports
-Curated insights for C-level
-Expose blind spots/risks
-Pinpoint process friction/wasted spend
-Identify hidden opportunities for growth

Watch: Seed stage cybersecurity SaaS company invests in RevOps-in-a-Box, wows VCs on their way to $11M Series A financing.
▶️ Watch Story
RevOps like that expedites
Go-to-Market results

like this.
0

%

Improvement in CAC in 9 months followed by 2X bookings ($14M SaaS business)
0

%

Increase in qualified pipeline in 6 months ($150M enterprise software business)
0

%

YoY recurring revenue growth
(Series A cybersecurity SaaS business)
Problems we're
solving

.

Facing any of these challenges and want them solved properly? That's where we come in.
People we're
helping

.

RevOps has three main strategic benefits:
Maximizing the business impact of your sales and marketing tech.
Surfacing accurate data and insights to GTM leaders.
Removing friction for prospects, customers, and internal teams.
If you're a CEO, CRO, CMO and you're not getting that, we can help.
If you're a RevOps leader in need of additional expertise, we can help.
If you're a VC or PE investor and your PortCos need RevOps done right, we can help.
What makes scaleMatters different

?
Data-FIRST foundation.
Our best practice Go-to-Market data/process models and data integrity protocols ensure that you can finally trust your data.
Not just project-focused.
We're a partner, focused on enabling your whole GTM engine so you can scale.
More than just RevOps expertise.
Revenue Intelligence Software is included - it's BI built specifically for running GTM.

"I approached scaleMatters to make sure we build our sales & marketing infrastructure and data right from the beginning. It's making analysis, decision-making, and board reporting easier."
Christine Schaefer
VP, Revenue

"We are competing on insights and winning more deals thanks to our RevOps and data partners at scaleMatters. Love the impact their team is delivering!"
Jim Hite
Chief Revenue Officer

"scaleMatters has given us visibility and control of our funnel, which we just didn't have before."
Mike Learner
Managing Director

"scaleMatters removes the guessing game of where things are falling through the cracks and points us in the direction of what needs to be fixed using data."
Sadaf Atashbarghi-Nehr
VP, Marketing

"The modern tech stack can be daunting, but scaleMatters alleviated that - allowing us to stick with the primary focus: growing our business."
Chris Sheehy
Sales Director

"This scaleMatters migration from Hubspot to Salesforce is the smoothest CRM migration anyone has seen within our executive team."
Mishaal Murawala
VP, Marketing