Services
Professional services that support your Go-to-Market operation
Implementation
scaleMatters' Implementation Methodology is designed so you're getting actionable insights in 12 weeks.
You'll be assigned an Account Manager who is responsible for shepherding you through the process serving as your RevOps Consultant, Project Manager and Onboarding Specialist. Additionally, you will have a dedicated Technical Implementation Manager responsible for configuration, QA, deployment, optimization and documentation of your scaleMatters integration.
Kickoff
During the sales process you will meet members of our Customer Operations team who will walk through the methodology in detail and propose an implementation plan.
We know there isn't time to waste so we will book the Implementation Kick-Off call within 5 business days of contract signing. At this time you will meet your implementation team and your dedicated Account Manager will assume responsibility for overseeing the entirety of your implementation and onboarding. Ultimately, we do the heavy technical lift only relying on your to provide context and participate in requirements gathering and data validation calls.
Platform Onboarding
Your project team will be with you every step of the way tailoring an onboarding approach to meet the needs of your team and organization. With specific job function based training and customized dashboards, we will work to get you ramped and iterated within 4 weeks.
Methodology
Every Go-to-Market team goes through iterations as their marketing and sales operation scales up.
scaleMatters' 4-step onboarding methodology helps you through the iterative process without burning tons of cash along the way.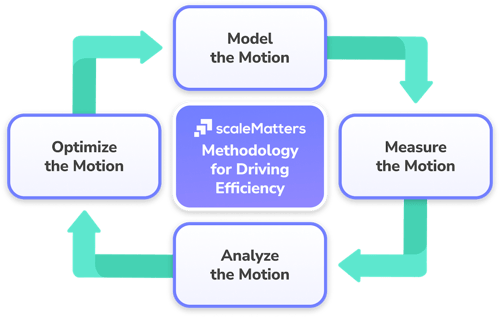 Approach
Our professional services team partners with you through each step of implementation and on an ongoing basis to ensure that you can maximize the value of scaleMatters Revenue Analytics Software.
The quicker you can identify and resolve inefficiencies across your revenue engine, the less cash you'll burn as you scale up.
Fractional RevOps Services
Whether you have an over-capacity RevOps team or you're simply looking for some unbiased outside strategic support, we are available to supplement your current RevOps capacity.
We assist with GTM business process design, application syncing, system architecture and administration, as well as user support and training.
We support your GTM operations in the following ways:
3rd Party Application Implementation
System Administration
User Management
GTM Operational process Design
Sync Configuration and Troubleshooting
Automation Configuration
Ongoing Support
Data Normalization
Packages start at $3,000/month
Fractional GTM Analyst Services
Getting actionable, unbiased data is often one of the biggest challenges GTM leadership faces.
Companies that have analysts often struggle with prioritization and capacity - coupling the scaleMatters Revenue Analytics Software with experienced GTM analyst services can help jump-start better business decision making. We can help with everything from your annual planning to recasting to ad-hoc business questions.
A fractional analyst can help with the following:
Revenue Acquisition Plan: Modeling your motion using assumptions, historical data and benchmarks before uploading into the platform
Measurement: Monitoring your motion with monthly and quarterly reporting and analysis
Reporting: Standard period-over-period reporting
Friction Finding: Forensic data analysis on specific areas of concern and summarizing findings in Analyst Reports in the platform
Custom reporting requests
Packages start at $2,000/month