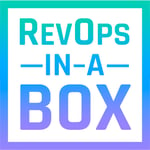 $80k-$120k/year
0

%

Cheaper vs. in-house RevOps
0

%

Faster time to value vs. in-house RevOps

Tech & Data Infrastructure
Tech & Data Infrastructure
Experts involved:
-RevOps architects
-RevOps admins
-Data Ops analysts

What they do:
-Map GTM processes/journeys
-Align on metrics/data definitions
-Best practice GTM instrumentation
-Configure your tech stack
-Train/support your end users

Data Ops
Data Ops
Experts involved:
-Data Ops analysts

What they do:
-Cleanse historical data
-Implement data governance protocols
-Monitor data quality
-Flag/fix data anomalies

Revenue Intelligence Software
Revenue Intelligence
Built for:
-GTM leaders: CEO, CRO, CGO, CMO
-Functional leaders: VPM, VPS, VPOps
-Analysts

Top features:
-Pre-loaded with 1000s of visualizations
-Leadership dashboards and scorecards
-Compare funnels, trend any metric
-Segment views by region, channel, etc
-Analytics on GTM strategies, processes, people, positioning, messaging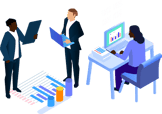 Business Analysis & Insights
Analysis & Insights
Experts involved:
-Business analysts

What they do:
-Forensic data analysis (ongoing)
-Monthly/quarterly in-app reports (ongoing)
-Curated actionable insights for C-level
-Expose blind spots/risks
-Pinpoint process friction/wasted spend
-Identify hidden opportunities for growth

Build RevOps In-House
⚠️ 3+ years to build full team
⚠️ RevOps talent shortages make recruiting proven talent more difficult
⚠️ 3+ months to align on data framework, metric definitions, measurement points
⚠️ Periodic CRM data cleanups when bandwidth allows for internal teams
⚠️ Static business intelligence from Google Sheets / Excel or purchase and implement Tableau
⚠️ Little time for analysis - this will fall on revenue leaders or won't happen
RevOps-in-a-Box
✅ Onboard and impact in 60-90 days.
✅ Top-notch RevOps architects, admins, data analysts, business analysts
✅ Proven data infrastructure - flexible enough for your unique GTM processes
✅ Ongoing end user support and data integrity monitoring
✅ Revenue Intelligence Software for real-time visualization into your entire GTM operation
✅ Actionable GTM insights presented to C-suite monthly or quarterly
Hire RevOps Leader
180+ days to hire/onboard
✅ Director/Manager
❌ Data Ops Analyst
❌ Business Analyst
❌ Data Infrastructure
❌ Data Ops
❌ BI Software
❌ Analysis & Insights
Customer Story
WATCH: How LabWare professionalized their global revenue operations with scaleMatters!

"I approached scaleMatters to make sure we build our sales & marketing infrastructure and data right from the beginning. It's making analysis, decision-making, and board reporting easier."
Christine Schaefer
VP, Revenue

"We are competing on insights and winning more deals thanks to our RevOps and data partners at scaleMatters. Love the impact their team is delivering!"
Jim Hite
Chief Revenue Officer

"scaleMatters has given us visibility and control of our funnel, which we just didn't have before."
Mike Learner
Managing Director

"scaleMatters removes the guessing game of where things are falling through the cracks and points us in the direction of what needs to be fixed using data."
Sadaf Atashbarghi-Nehr
VP, Marketing

"The modern tech stack can be daunting, but scaleMatters alleviated that - allowing us to stick with the primary focus: growing our business."
Chris Sheehy
Sales Director

"This scaleMatters migration from Hubspot to Salesforce is the smoothest CRM migration anyone has seen within our executive team."
Mishaal Murawala
VP, Marketing